It's approximately 12.13am. i've got a glass of chilled pepsi in front of me. i'm listening to free bird by lynyrd skynyrd. i've been listening to it for the past three-quarters of an hour. over and over again. it's the live version. it's 14minutes long anyways. enjoy the video here. the little picture above is a cute-emo. i'm sure you've seen stuff like that before. they're just too cute to ignore.
:) :)


well, owe this meaningless post to the weather. it's chilly. the rain's stopped, but the bone-chilling wind's still there. i hate the weather we've been having for the past three days. it's soggy, and it's dark, and it's depressing. i couldn't go out of my house for the last two days. finally when there was some sunshine today, i put on my brand new shoes (very nice song by paulo nutini. check it out here) and i went out and had phuchka and a chicken roll, and mishti. it was so damn worth it, because as soon as i got home, the weather fucking changed back to dark and depressing again!


my mother is crawling up my back telling me to get a haircut.
'piku, jao chul kete esho.'
'piku, chul kete esho noeto tomake kichhu'r jonye taka debona.'
'piku, chul kete esho noeto tomae kothao jete debona.'
'piku, jao chul kete esho.'
you get the picture, right? but the thing is.. i don't want to cut my hair. it's actually long enough to tie at the back now. but i don't do that. it feels weird.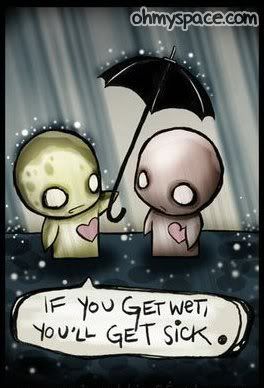 yesterday, i fell in love with the way liverpool played against chelsea. they won 1-0, and although the goal wasn't that good a goal, they deserved to win. so much for manchester united. i wonder what's wrong with them. defender rio ferdinand actually looked like he had been run over by a car and thrown onto the football field the other day. after 60-odd minutes into the game, he looked exactly like it. i swear. i love football. i love all the teams, and all the players. they just make everything so entertaining. i love football.

it's diwali week. tomorrow's kali pujo. i haven't enjoyed kali pujo or diwali for a couple of years now. earlier, when i was littel-er, my cousin sister and i used to burst crackers together, and it was great fun. then, suddenly, it just stopped. and i haven't burst crackers since. tomorrow i'll probably be going over to a friend's place for lunch and all. i don't know. the plan might get cancelled. i hope it doesn't get canceled. i don't want it to get canceled. i want everyone who's supposed to come to come, so that the plan doesn't get canceled.

i've been rambling enough.
photo two is lynyrd skynyrd live in concert. just because i like them.
photo three is another cute-emo. it's cute. there, i said it. think whatever. see if i care.